Visit the 3 Upcoming KC Events for Lovers of the Arts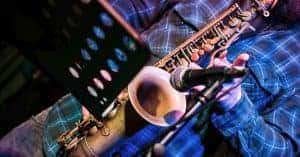 Attention all art and theater lovers! Kansas City is home to a vibrant art, theater, and comedy scene. Whether you're looking to laugh until your sides hurt or sing your heart out at an upcoming concert, Kansas City has some great upcoming art-related events. While the possibilities are endless, below we've highlighted just a few of the popular upcoming art, music, and comedy events in the area. So read on to discover what art-related event you should attend next.
Laugh The Night Away at the Kick Comedy Theater
While all of the performances at the Kick Comedy Theater will leave you laughing and entertained for hours, it's the show on both June 9 and June 10 that we are really looking forward to the most. Presenting Shakespeare's Unwritten Works, this show will lead to a night filled with discovering Shakespeare. While we all know that Shakespeare wrote 37 plays, what we don't know is that there is a collection of unpublished writing that has been hidden until now. Not only will this night lead to a brand-new improvised stage play in the style of Shakespeare, but it will also feature a short-form "Whose Line" game and a local KC Indie Troupe. With advanced ticket prices of $13 and general admission at The Door of $15, we know that this show will be a night that you'll remember.
Fill Your Night With The Musical Stylings of Jazz At The Musical Theater Heritage
Starting on Friday, June 23, join us for weekly silent movie jazz sessions. This new performance series blends the silent movie genre with live jazz artists performing both original and improvised compositions. Located at the Musical Theater Heritage (MTH) Studio Theater and Cinema, this quartet is led by Joey Panella and is comprised of bass, drums, guitar, saxophone, and a clarinet. If you're in the mood to listen to some of the best jazz music in the city, you won't want to miss any of these weekly events.
Sing Your Heart Out At The Sprint Center
Featuring a variety of performers that will appeal to just about anyone, it's Bruno Mars' show that we are looking forward to the most this summer. Coming to town on August 9, this show will definitely be one of the hottest of the year! With a musical style of modern pop mixed with rock, hip-hop, R&B, and reggae combined with a smooth voice and tender lyrics, Bruno Mars collection of hit songs will lead to a great night. While tickets aren't on sale yet, we recommend to buy them as soon as they are available as we have a feeling that this show will get sold out fast!
And the list of art-related events and activities goes on. We know that whatever event you choose to attend, whether it's from our list or not, all will lead to a fun and entertaining evening. So tell us in the comments below, what event(s) will you be going to? We love hearing from you!
This photo, "Racing Mackerels at Hot Club Portugal," by Paco Romero-Ferrero used under CC BY-SA 2.0. "Racing Mackerels at Hot Club Portugal" is licensed under CC BY-SA 2.0 by Lee's Summit Dodge Chrysler Jeep Ram.