Top 5 Hiking and Walking Trails around Kansas City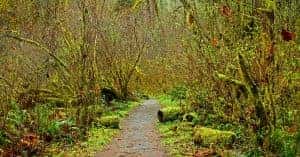 Kansas City is packed with green space and parks where you can go hiking, walking, jogging, and cycling. There are challenging options for experienced hikers, paved paths for wheelchair access, and flat paths with playgrounds for families.
Wyandotte County Park Trails
Wyandotte County Park is over 1,500 acres and is a beautiful park to explore. There is a tough 8.85 mile loop track that circles the park and leads to other trails for a longer route. Most of the trails are rocky and have a few large hills. There are also a few water crossings that you'll need to navigate as you head further into the park. Be aware that the trail is also a horse trail, so you may meet some horseback riders on your hike.
Location: State Avenue and 126th Street, Bonne Springs, KS
Loose Park Trails
Loose Park is a 75-acre park with two main trails for walking. Both are loop tracks that are slightly under 2 miles long and are completely paved. You'll go past playgrounds, tennis courts, the rose garden, a lake, and several historic structures. This central city park is popular and can be crowded on weekends, but it's a great place for walking, jogging, and spending time with the family.
Location: 51st and Main Street, Kansas City, MO
Trolley Track Trail
This trail used to be an old trolley line, but that has since been removed and replaced with over 10 miles of crushed limestone path. The path goes from Country Club Plaza through Brookside, to Waldo. As you follow the trail south and east, it becomes paved. It's a great place to walk, jog, cycle, and take the dog.
Location: Worrall and Brookside Boulevard, Kansas City, MO
Katy Trail
If you're looking for an epic trail with endless miles of walking, look no further than the 237-mile Katy Trail. It's a mostly flat trail made of crushed limestone that passes through much of Missouri. It's great for running, walking, or bike riding and joins up with part of Lewis and Clark's trail. You can easily join the trail near Kansas City by crossing into St. Louis and enjoying a portion of it.
Location: The trail runs from Clinton, MO to Portage des Sioux, MO.
Cave Spring Trails
There are three great walking and hiking trails at the Cave Springs Historic Site and Nature Center. One trail is about half a mile, the second is 1.5 miles, and the third trail is just under 3 miles. The trails are dirt paths and they are all connected to one another, so you can easily extend your walk for several miles. Along the the trails you'll see creeks, ponds, remains of old cabins, and a small cave with a spring in it.
Location: 8701 E. Gregory, Kansas City, MO
Whether you're looking for a lengthy trail to train for a marathon, a hiking trail to challenge yourself, or a paved path to stroll, you'll find it here in Kansas City. Lee's Summit Dodge Chrysler Jeep Ram loves helping customers find fun things to do in Kansas City!
This photo, "McDowell Creek Hiking Trail, Oregon," by Bonnie Moreland used under CC 1.0 Universal. "McDowell Creek Hiking Trail, Oregon" is licensed under CC 1.0 Universal by Lee's Summit Dodge Chrysler Jeep Ram.