How Long Do Car Brakes Last?
Our service team is constantly being asked questions like, "How long do car brakes last?" and "Why are my brakes making a grinding noise?" How long your brakes last depends on a number of factors, including where you drive, how often you drive, and what kind of car you drive. If you, too, have been wondering, "How many miles do brakes last?" you'll find your answer here!
How Many Miles Do Brakes Last?
Because there are so many kinds of cars driving throughout the Lee's Summit area, it's impossible to give a definitive answer. General guidelines suggest that brakes typically last between 25,000 and 65,000 miles, but a 40,000-mile range is too wide to call it a rule-of-thumb. You should always see what is recommended in your owner's manual, and have your car regularly inspected for safety.
What Affects Brake Pad Life?
The answer to the question, "How long do car brakes last?" depends on a number of factors. Consider the following when estimating when you're due for a change:
Environment: City driving involves more start-and-stop situations, meaning you'll use your brakes more often. Highway driving doesn't involve such frequent braking, so your brakes will last longer.
Driving Habits: If you have lead feet, then your brakes won't last as long as they would if you were gentle.
Brake Material: Carbon-ceramic brakes offer better longevity, but they're also more expensive than conventional brakes.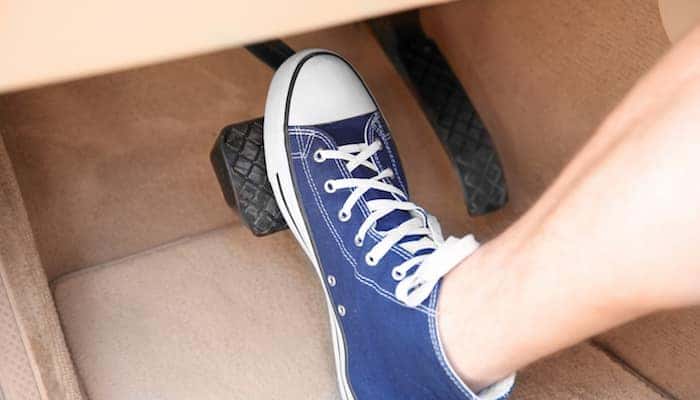 Have Your Brakes Inspected and Serviced at Lee's Summit Dodge Chrysler Jeep Ram
Whether you're making frequent trips between Independence and Blue Springs or spend most of your time on the highways around Gladstone, it's important to inspect your brakes for safety. Schedule service with Lee's Summit Dodge Chrysler Jeep Ram when your brakes are due to be changed. We offer service specials, help with setting up your cars Uconnect, and more, so be sure to contact us with any questions or concerns, including how to program a key fob!
More Service Tips from Lee's Summit Dodge Chrysler Jeep Ram
Transmission fluid lubricates the components in your vehicle's transmission. You need to check your transmission fluid on a regular basis, so that your car easily shifts gears on Independence roads. In order to check your transmission fluid, you'll need to: Turn your Chrysler, Dodge, Jeep, Ram on. You'll want to warm up the engine. Locate the transmission fluid…

Why are your brakes making a grinding noise? Your brakes may be at the end of their life cycle. You'll want to find out as soon as you can – otherwise, you risk an accident on Kansas City roads. Learn more about brake sounds here at Lee's Summit Dodge Chrysler Jeep Ram. Service Specials Mopar Brakes Contact Us 1. Your Brake…

Contact Us Changing the key fob battery for your Chrysler Pacifica or Chrysler 300 is easier than you might think! In fact, it takes just a few minutes. Here are the things you'll need: Your Chrysler key fob, thin but sturdy nail file, and a new battery. Ready to go? Follow the steps below to…