Drivers from Kansas City to Blue Springs know that lifting their Jeep can increase driving fun and enhance ground clearance for better off-road capabilities. Read on to learn why you, too, might consider lifting your Jeep, along how to find the best lift kit for your needs, with this guide to Jeep lift kits from Lee's Summit Dodge Chrysler Jeep Ram.
Benefits of a Lifted Jeep
There are a few reasons for Independence Jeep owners to lift a Jeep themselves. From Jeep Wrangler lift kits to Jeep Cherokee lift kits, the process is usually done for a stylish appearance and improved off-road performance. While new Jeep models are already very capable when traveling off the beaten path, a lifted Jeep offers off-road performance that's even more impressive.
With the additional height and larger tires that a lift kit offers, Lee's Summit area drivers will enjoy greater ground clearance, better approach angles for steep climbs and rocky obstacles, and greater articulation and stability.
Types of Jeep Lift Kits
There are plenty of options when it comes to lifting your Jeep. There are many parts and accessories available for Jeep vehicles and, as a result, there are a plethora of Jeep lift kits available. When it comes to lifting your SUV, the type of lift kit you decide on will depend on your driving habits and budget.
It's important to think about how you plan to use your Jeep, so you can choose high-quality, well-engineered products to fit your needs and budget. If you need help figuring out which parts are right for you, contact the expert service team at Lee's Summit Dodge Chrysler Jeep Ram. Learn more about some of the most common options:
Body Lift
A body lift is a simple, low-cost way to lift a jeep. With a body lift, extra space is added between the body and frame. It provides 1-3 inches of lift while maintaining stock suspension and wheels. This lift is great for those Kansas City drivers who want to lift their Jeep for cosmetic reasons, as it doesn't actually provide enhanced off-road capabilities.
Budget Boost/Coil Spring Spacers
This lift type consists of coil spacers placed on top of your Jeep's coil springs. 1.5-2 inches of lift is common. Many Blue Springs drivers opt for this type of lift because it doesn't require a lot of suspension modifications and factory ride quality is maintained. Similar to the body lift, this modification is mostly for looks and favorable for drivers looking to add larger tires.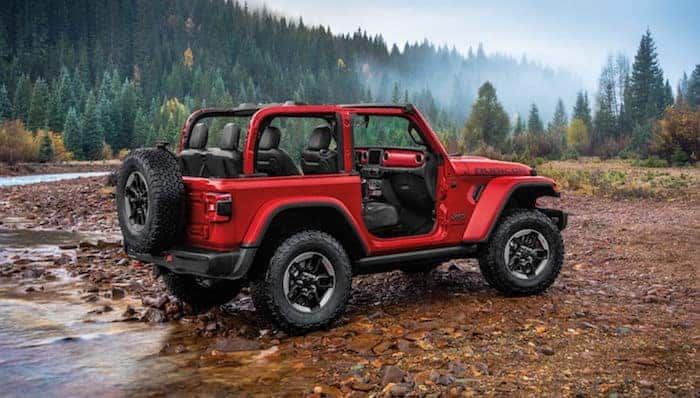 Coil Lifts
With the coil lift, longer coil springs are added to your Jeep. This type of lift offers 2-3.5 inches of suspension lift. Additionally, the taller coil spring provides increased articulation. This is a great lift kit option for serious off-roaders.
Short Arm Lift Kit
A short arm lift kit includes everything found in a coil spring kit, plus longer front and rear control arms, bigger sway bar links, and shocks. Short arm lift kits are most widely used due to their effectiveness. This lift will provide over 2-6 inches of lift. It also gives impressive off-road capability and increased ground clearance and wheel travel. Since this kit is essentially a full suspension setup, this kit comes highly recommended for many off-roaders.
Long Arm Lift Kit
A long arm lift kit utilizes long control arms mounted further back on the vehicle frame in an attempt to provide better suspension angles. Long arm lifts provide your Jeep with extreme articulation and impressive crawling ability. Bear in mind, long arms can get caught up on rocks much easier, and this kit is pricey. It also requires welding and fabrication upon installation. Because of this, the kit is best for professionals and enthusiasts who want to see their Jeep at its very best.
Jeep Lift Kits: Model Differentiations
Jeep lift kits are popular on models across the Jeep lineup. Read on to see the differentiation between how lift kits are commonly used on each model.
Jeep Wrangler lift kits and Jeep Cherokee lift kits tend to be added due to a driver's need for increased off-roading performance.
Jeep Renegade lift kits and Jeep Grand Cherokee lift kits tend to be added for preferred styling.
Ready to Lift Your Jeep?
If you decide to add a lift kit to your Jeep, contact Lee's Summit Dodge Chrysler Jeep Ram. With our wide range of available parts and accessories, we can perform expert installation of quality parts right here at our dealership! If you're interested in other ways you can customize your Jeep vehicle, take a look at the available Jeep Wrangler color options.