Kansas City's Top 5 Music Venues That You Must Visit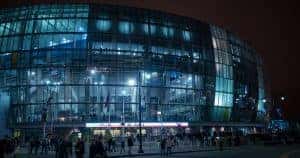 A medley of music genres often graces the stages of Kansas City, providing the locals with hours of entertainment. Whether musicians rock it out on a massive stage or strum their tunes in a more intimate environment, there's a venue to suit their style. Discover some of the best music venues to satisfy any musical appetite.
Knuckleheads Saloon
Day or night, this is the perfect venue for those who want to get up close and personal to incredible music talent. The saloon offers a no-nonsense atmosphere that knuckles down and allows patrons to enjoy a great show. Beverages and pub-style food ensure guests remain comfortable for a few hours. The venue provides seating, and guests have the opportunity to reserve tables at an additional cost. Situated on Rochester Street, this is a must-visit for any music lover.
Starlight Theatre
Balmy summer evenings are best spent outdoors, and this venue takes full advantage of the great Kansas weather. This venue is more than just an outdoor stage. It also sets a beautiful atmosphere thanks to impressive stonework and lighting. This is the ideal venue for a first date, thanks to the romantic ambiance. While an outdoor venue, it only hosts around 8,000 people, which keeps it relatively intimate. The theater is based on the aptly named Starlight Road.
CrossroadsKC at Grinders
Based in the heart of Kansas City's Crossroads Arts District on East 18th Street, this venue is more than just another outdoor venue. It provides patrons with a collection of musical talent that spans across various genres. The setting itself lends to an incredible atmosphere all music lovers should experience. The venue doesn't host many shows and limits itself to around one show a week. Those who wish to experience a show here can look forward to bluegrass, reggae, jazz, blues, and more.
Sprint Center
Grand Boulevard is home to this music venue that hosts some of the best-known names in the industry. Those who purchase tickets to this venue know that thousands of like-minded fans will surround them, cheering on big acts such as Ed Sheeran and Coldplay. The center can accommodate just over 19,000 fans. After the concert, music fans can make a trip to nearby Power & Light District to experience Kansas City's incredible nightlife.
Green Lady Lounge
Jazz lovers flock to this venue based on Grand Boulevard because it doesn't just provide another night out on the town. It also plays host to some of the best local and national jazz talent. An upstairs and downstairs lounge ensure guests experience different jazz genres, while the atmosphere gently lulls guests into full-blown music euphoria. This is a must-visit for anyone who has an appreciation for intimate music experiences.
Kansas City dwellers are known to set the night on fire with sublime music talent. They also have an appreciation for various styles of music, which makes it the ideal location for those who want to experience something different. Thanks to great venues, stellar performances grace locals and visitors alike.
This photo, "Sprint Center," by Heath Cajandig used under CC BY 2.0. "Sprint Center" is licensed under CC BY 2.0 by Lee's Summit Dodge Chrysler Jeep Ram.