How to Change the Oil in Your Car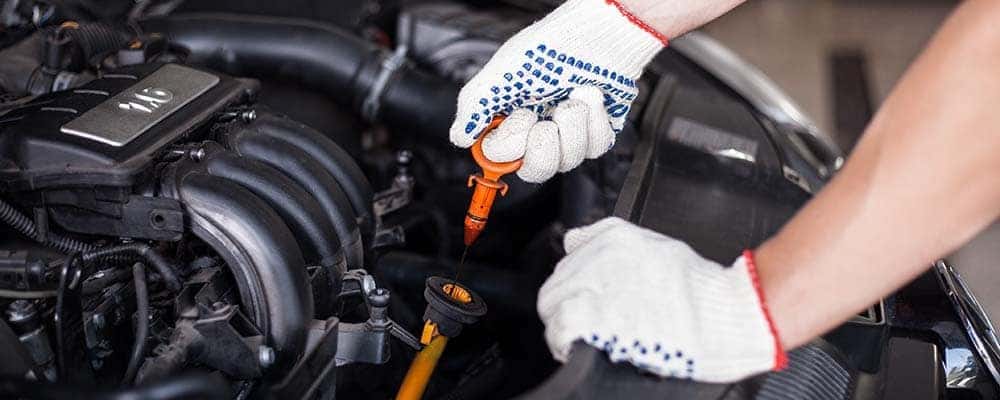 There's no more essential vehicle service than an oil change. Learn how to change the oil on your Dodge, Chrysler, Jeep, or RAM vehicle here at Lee's Summit Dodge Chrysler Jeep Ram, serving drivers in Blue Springs and Gladstone.
1. Prepare Your Tools.
Before you get started, you'll need to make sure you have everything you'll need, including:
Motor oil specific to your make, model, year, and mileage
New oil filter
Box end wrench
Other wrenches
Rubber mallet
Jack/jack stands
Safety glasses
Gloves
Funnel
2. Lift the Vehicle.
Using a jack, lift the vehicle up so you can access the oil pan underneath. Make sure to use jack stands as well as an added precaution.
3. Drain the Old Oil.
Unscrew the plug in the oil pan with a box-end wrench and rubber mallet and then let the old oil drain into a receptacle. Clean the plug, put it back on, and put in a new gasket, if needed.
4. Replace the Oil Filter.
Take out the old filter with a wrench, including the old rubber gasket, and then replace it with a new oil filter.
5. Put in New Oil.
Pop the hood, open the oil receptacle, and use a funnel to add new motor oil to the oil tank. Make sure you use an oil approved for your specific make, model, year, and mileage. Wait a couple minutes for the oil to settle, and then use the dipstick to make sure the oil level is full. If it isn't, then add a bit more until full.
Get Professional Dodge Chrysler Jeep and RAM Service Near Kansas City!
If you would rather leave your oil change to the professionals, then make your way to Lee's Summit CDJR. Here, our Service Center staffs knowledgeable experts in all things service – from brake pads to tire treatment. We also offer affordable service specials. Contact us anytime if you have any questions like, "How long do brakes last?", "How do I change my own oil?", or "How do I get smoke smell out of my car?"