How to Calculate the Interest Rate on a Car Loan
When you finance a new car or used model at our Kansas City-area dealership, you are going to be charged interest. After all, every loan has interest! But how does interest affect your total payment? Are you wondering how to calculate the interest rate on a car loan? Today, the team at Lee's Summit Dodge Chrysler Jeep Ram will help you find out how by teaching you how to calculate auto loan interest with our guide!
What is an Interest Rate?
Before you calculate interest on your finance plan, we first need to touch on what interest is and the factors that impact it. When you purchase a car on credit, the lender owns your vehicle until it's paid-in-full. Interest is what you pay your lender for using their money in advance. The interest rate you pay is based on several factors, including:
Loan Term: This is the amount of time it will take you to pay off your loan. The shorter the loan, the higher the monthly repayments will be, but less interest that will be charged. With longer terms, your monthly payments are lower, but you'll end up paying more interest.
Principal Amount: The principal amount is the dollar amount you are looking to borrow.
Repayment Amount: The total amount you are paying, including interest and any applicable fees.
Repayment Schedule: This determines when you make payments, and how long your terms last.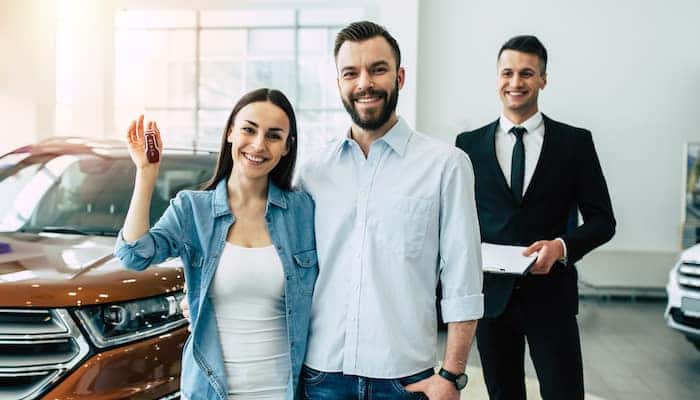 How to Calculate Auto Loan Interest for First Payment
Want to know how to figure interest on a car loan? When you calculate auto loan interest, use this calculation:
Divide your interest rate by the number of payments you make in a year.
Multiply that number by the balance of your loan. This is your whole principal amount.
This gives you the amount of interest you pay the first month after you take your car home to Blue Springs or Independence.
How to Figure Interest on a Car Loan Going Forward
Once you're making payments on your initial principal, it's time to calculate your new balance, so you can see the interest you'll pay in the following months. To do this:
Subtract the interest you just calculated from the payment you just made. You'll be left with the amount that you have paid off your loan principal.
Deduct this total from your original principal to get your new loan balance.
While your actual payments and totals may differ slightly, this will give you a general idea of how to calculate interest rates on a car loan.
Let the Financial Professionals at Lee's Summit Dodge Chrysler Jeep Ram Help!
It's easy to be overwhelmed when you're figuring out how to calculate interest rates on a car loan. So let the Finance Center at Lee's Summit Dodge Chrysler Jeep Ram help you! We'll help you with anything you need to know about auto finance. Whether you want basic information on how your interest rate will impact your monthly car loan payment or want to see how you can take home a new Jeep, we're ready to help.
For some quick help with interest and payments, take a look at our monthly payment calculator!
Recent News from Lee's Summit Dodge Chrysler Jeep Ram
The Jeep Grand Cherokee has been a crowd favorite in the Kansas City area for a long time, and it's easy to see why! This powerhouse SUV blends impressive performance specs with classic Jeep style and includes plenty of comforts and conveniences inside the cabin for two or three rows of passengers. As a full-size…

If you're looking for a powerful new pickup truck that can handle tough off-roading as easily as weekly trips to the grocery store, look no further than the 2022 Jeep Gladiator! There's no shortage of exciting specs and features available on the Gladiator, guaranteed to give your Kansas City rides a serious upgrade. You can…

The Jeep Gladiator has been a mainstay for pickup trucks in Kansas City and beyond for a long time, and it's easy to see why! This pickup truck features impressive performance specs, strong towing capabilities, and enough premium amenities inside the cabin to make every ride smooth, safe, and comfortable. If you're interested in buying…