Check Out These Top Places to go Shopping in Kansas City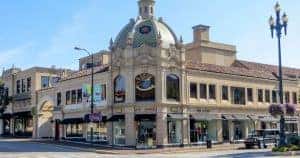 There are so many great shopping areas and malls in Kansas City. Whether you're looking for the latest from top brands or want something one-of-a-kind from a local boutique, there's a place to find it in Kansas City.
Country Club Plaza
Country Club Plaza is one of the best dining, shopping, and entertainment districts in Kansas City. The area is made up of 15 blocks packed with over 170 stores and restaurants. You'll find everything from Tiffany's to Urban Outfitters. There are high-end designer stores and small boutiques.
As for restaurants, it's impossible to go hungry when you're at Country Club Plaza. There are big name chains and small, independently-owned restaurants. You'll find cafes and brunch spots, wine bars, craft beer bars, Italian restaurants, sushi spots, and plenty of places for ice cream and other desserts.
Location: 4750 Broadway, Kansas City, MO
Legends Outlet
There's no better discount shopping in Kansas City than Legends Outlet. Some major retailers include Adidas, Brooks Brothers, Clarks, and the Gap. There are also plenty of places to eat at the outlet center. From Chipotle to Five Guys, there are tons of options to refuel you for a day of shopping.
Location: 1843 Village West Parkway, Kansas City, MO
Town Center Plaza
Town Center Plaza is a truly upscale shopping experience. There are over 90 stores at this outdoor shopping center. There are high-end home goods stores like William-Sonoma and Pottery Barn and a few independent shops like Kim's Tailor and Shoe Repair.
There are also plenty of food options. From Mexican burritos to Spanish tapas, even the food options are high end.
Location: 5000 West 119th Street, Kansas City, MO
Baldwin KC
Looking for a unique Kansas City based designer? Look no further than Baldwin. The brand was a 2015 Vogue Fashion Fund nominee, which really put them, and Kansas City fashion, on the map. Head to their location in Country Club Plaza for their top-class denim or one of their famed vintage KC baseball hats.
Their ready-to-wear line is available in several other locations around the city as well as online.
Location: 340 W. 47th Street, Kansas City, MO
Boomerang
If vintage style is what you're after, get yourself over to Boomerang. Here you'll find men's and women's fashion between 1940 and 1980. They also have home furnishings in excellent condition from the 1940's through to the 1960's. It's the sort of place where you accidentally walk out with something completely different than what you intended to buy. There's a wig section, piles of hats, sweaters in tons of different colors, and shoes in every style imaginable.
Location: 3900 Pennsylvania Avenue, Kansas City, MO
Finefolk
Finefolk is a great boutique to find local Kansas City designers. Look for favorites like Frame Denim, Sierra Winter Jewelry, and Rachel Comey. You won't find them anywhere else in Kansas City.
The shop is set up with art and design in mind. It's like an art gallery, and the clothing is displayed in unique and fun ways. A visit to the shop is a great way to simply learn more about local designers.
Location: 122 Southwest Boulevard, Kansas City, MO
There are so many great shopping areas, centers, and independent boutique shops to explore in Kansas City. Time to get shopping!
This photo, "20160710 16 Country Club Plaza, Kansas City, Missouri," by David Wilson used under CC BY 2.0. "20160710 16 Country Club Plaza, Kansas City, Missouri" is licensed under CC BY 2.0 by Lee's Summit Dodge Chrysler Jeep Ram.