5 Fun Things to Do at Paradise Park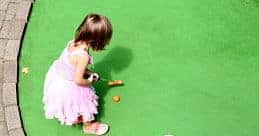 Paradise Park is an amusement park in Lee's Summit, Missouri, that offers plenty of thrilling attractions for the entire family. Whether you have a few hours or an entire day, check out a few of the exciting activities that are waiting for you at Paradise Park.
Miniature Golf
Test your aim on the 18-hole miniature golf course at Paradise Park, which is considered one of the most beautiful in the area. Challenging obstacles test the skills of every golfer while they enjoy scenic landscaping and an abundance of streams, waterfalls, ponds, and fountains. The course is also covered by plenty of mature trees, which creates a comfortable amount of shade, and the new LED lights make playing at night even more exciting.
Express Escape Rooms
Paradise Park has teamed up with The Exit Room from downtown Lee's Summit to bring you two action-packed express escape room challenges. Just like regular escape rooms, you and your group use clues to help solve a series of puzzles and get out of the room in a certain amount of time. However, these express challenges have shorter time limits so you can enjoy other activities while you're here. Your scenarios involve either searching for renowned and missing Sasquatch hunter Patterson Menck or an attempt to recover a 'reply all' email that you never should have sent.
Discovery Play
While the big kids have fun at their favorite activities, the smaller members of the family can still enjoy a good time at Paradise Park when they head to the Discovery Play center. This hands-on learning center is specially designed for children seven years and younger. Play spaces include a water table, library, arts and crafts tables, building blocks, pretend play stations, and more. There's also an outdoors area where children can climb on playground equipment and dig in a sandbox.
Go-Karts
Head to the go-kart track and race your friends and family around the 1,000-foot track. Here you'll zip around nearly a quarter-mile of exciting twists and turns as you see who can come in first. There are go-karts of various sizes so everyone can join in the fun. Smaller junior go-karts for younger drivers between 48 and 58 inches in height are available, too. For drivers over 58 inches high, there are full-size go-karts. Children 40 inches or taller can also ride with an adult driver who's 18 years of age or older.
Game Room
The game room is one of the most popular attractions at Paradise Park. You'll find classic arcade games, such as Galaga and Ms. Pac Man, as well as popular new games, like Crossy Road, Flappy Bird, Timberman, and Cruis'n Blast. Get a Fun Card and you can add credits right at the arcade for hours of play. Then collect as many tickets as you can to redeem them for great prizes.
When you're searching for one place the entire family will enjoy, head to Paradise Park and check out these fun attractions and more.
This photo, "Mini-Golf with the McCarthy Clan," by John Noonan used under CC BY-SA 2.0. "Mini-Golf with the McCarthy Clan" is licensed under CC BY-SA 2.0 by Lee's Summit Dodge Chrysler Jeep Ram.